Are you an artisan or maker looking for an indoor space to display and sell your wonderful pieces? Join us at one of the newest indoor Christmas markets at the 7 Chiefs Sportsplex & Chief Jim Starlight Centre on the beautiful Tsuut'ina Nation bordering SW Calgary.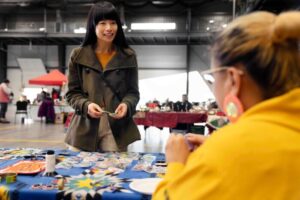 Click here to complete a short vendor application form to book a vendor table(s). We will quickly review it and get back to you. Table locations will be assigned in a general admission format. This means we don't have a floor map for you to choose a location but will assign vendor tables as applications are received, approved and paid.
Cost
The cost for an 8' table in a 10' x 10' space for the three-day market on December 15, 16 and 17 is only $299 plus GST.
This fee includes all three days Friday and Saturday 11 am – 7 pm and Sunday 11 am – 4 pm.
---
What's included
One 8' x 30" table in a 10' x 10' space
Two chairs
Free access to dedicated wi-fi
Free parking
Easy ground-level load-in through large bay door near parking
You are welcome to fill your space as best showcases your products – for example, a small clothing rack, small portable shelving, or other small structures that fit inside a 10'x 10' area.  As long as these items do not extend beyond your 10′ x 10′ space.  This is to ensure equal spacing for vendors and safe aisle ways for shoppers.
What's not included
Your table covering or linen (please bring your own)
Hand sanitizer for your personal use and for your shoppers' use
Power is not available, but you are welcome to bring small battery-operated or clip-on table lights. As a Field House, the overhead lighting is good but if you would like to highlight something special on your table, please bring your own portable lighting that does not require power.
For this reason, we apologize we cannot facilitate vendors that need critical things like a microwave, warming trays, fridge, or freezer, etc.
Vendor Refunds
Refunds will not be made unless there is a mandatory shut-down of this type of event (marketplace and/or trade show).
Ready to purchase your space? Click here for the vendor application. We will review each application and send your confirmation with an online invoice for payment upon approval. Your table location will be confirmed once payment is received.
Set-up and Take-down Requirements
The Seven Chiefs Sportsplex & Chief Jim Starlight Centre will be available for move-in for vendors from 2 pm – 9 pm on Thursday, December 14.  Set up must be completed on Thursday. There is a ground-level large bay door that accesses the marketplace area directly from the parking lots.
Take-down will occur on Sunday after the market closes at 4 pm.
PLEASE NOTE: All vendors must keep their vendor tables open and staffed for the full duration of market hours on all 3 days.
Food and Beverage
The 7 Chiefs Sportsplex & Chief Jim Starlight Centre has an indoor concession which will be open.
Vendors will only be allowed to sell pre-packaged food that shoppers are taking home with them.  Open preparation and/or cooking is not allowed in the Sportsplex.
Parking
The Seven Chiefs Sportsplex & Chief Jim Starlight Centre has an abundance of free parking. Vendors are asked to park on the west side of the building which will give you direct access to load into the Field House via the large bay door and will leave the front parking for shoppers to enjoy the market.
Confirmed Vendors to Date