Are you an artisan or maker looking for an indoor space to display and sell your wonderful pieces? Join us at one of Calgary's newest indoor Christmas markets at the 7 Chiefs Sportsplex & Chief Jim Starlight Centre on the beautiful Tsuut'ina Nation bordering SW Calgary.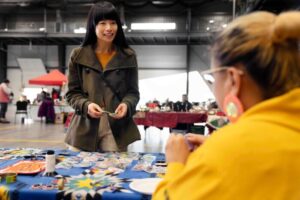 Click here to complete a short vendor application form to book a vendor table(s). We will quickly review it and get back to you. Table locations will be assigned in a General Admission format. This means we don't have a floor map for you to choose a location but will assign vendor tables as applications are received and approved.
Cost
The cost for an 8' table in a 10' x 10' space for the three-day market on December 16, 17 and 18 is only $199 plus GST.
This fee includes all three days Fri and Sun 11 am – 4 pm and Sat 11 am – 7 pm.
---
What's included
One 8' x 30" table in a 10' x 10' space
Two chairs
Free access to dedicated wi-fi
Easy ground-level load-in through a large bay door
You are welcome to fill your space as best showcases your products – for example, a small clothing rack, small portable shelving, or other small structures that fit inside a 10'x 10' area.
What's not included
Your table covering or linen (please bring your own)
Hand sanitizer for your personal use and for your shoppers' use
Power is not available, but you are welcome to bring portable self-generated lighting such as small battery-operated table lights. As a Field House, the overhead lighting is good but if you want to highlight something special on your table, please bring your own portable lighting.
For this reason, we apologize we cannot facilitate vendors that need critical things like a microwave, fridge, or freezer, etc.
Vendor Refunds
Refunds will not be made unless there is a mandatory AHS and/or Tsuut'ina Nation shut-down of this type of event (marketplace and/or tradeshow).
Ready to purchase your space? Click here for the vendor application. We will review each application and send your confirmation with an online invoice for payment upon approval. Your table location will be confirmed once payment is received.
Set-up and Take-down
The Seven Chiefs Sportsplex & Chief Jim Starlight Centre will be available for move-in for vendors from 3 pm – 9 pm on Thursday, December 15. We request set-up to be done on Thursday. There is a ground-level large bay door that accesses the marketplace area directly. If you are unable to set up on Thursday, you must advise us prior. If this is the case, your vendor space and tables must be completely set up and ready to sell no later than 10:00 am on Friday, December 16.
Take-down will occur on Sunday after the market closes at 4 pm.
PLEASE NOTE: All vendors must keep their vendor tables open and staffed for the full duration of market hours on all 3 days.
Food and Beverage
The 7 Chiefs Sportsplex & Chief Jim Starlight Centre has two indoor concession stands which will be open.
Parking
The Seven Chiefs Sportsplex & Chief Jim Starlight Centre has an abundance of free parking. Vendors are asked to park on the west side of the building which will give you direct access to load into the Field House via the large bay door and will leave the front parking for shoppers to enjoy the market.
Confirmed Vendors to Date
Tony Snow
Buffalo Spirit Enterprises
Eaglefly Creations
Elliestar Blanket
Eagle Spirit Gifts
Legendary Beauty & Cosmetics
Redfox Apparel
Thunder Beings Beading
Native Star Designs
Mumu Beads
Pretty Blinkz by Kathleen Dodginghorse
S.O.S. Designs
Karen Kryzan
Tiny Brown Baker
Shoplift Deals Ltd
Blackfoot Diva/ Angry Pickle
Ellspins
Rider Native Art
Asham Creations
Nasta Images
Odawa Studio
Ecuathentic
Dominican Jewelery by Tony
Sukapi Creations
Shepherd Originals
Zeedout
Gentle & Joyful
Blackfoot Elegance
Native Diva Creations
Loretta's Wellness Circle
Alan One Spot
The Sparkling Buffalo
Samphire Canvas Creations
Pat's Jewellery
Creations by Paula Ann
Valkyrie's Totems
"Sweet Whims"
Spirit Glass Healing
Treasure Girl by Sonia
Fleamarket Fabulous
Beeleaf
Western Renditions
Starlight Customs
Starlight Customs
My Teepee
Marktphotography
Phylosophies
Moose Willows
Winds in the Trees Creations
Hornaments
Wapakwaniwin Craftwork
Diamond Feathers
Just Ezzy Bee Kidz
Rustic Home and Garden Furnishings
FlyBye Clothing
Wandering Spirit Creations
Let Them Play Apparel
Wonderland
Redman Customs
Little Owl Creations
Vigor & Virtue
Wichapi Crafts
Careme
Little Chief Creations
Pampered Chef
Heavenly Creations
P&T Crafts & Home Canning
Erin Phillips
Holy Sh*t Trivia
Tsuu T'ina Cultural Museum Giftshop
Thunderwoman Designs
TwoGuns Designs
Stuffy Riders
Swirling Wind
Blue Flower by Eagletail
Melinda Bearspaw
Serene Weasel Traveller Designs
Powwow Styles
Wild Rose Creations
Creeflower Design
Big D's Creation
Releaf Aromatherapy
Jasmine
Fox Designz
A Cree Iskwew Design
O.G. Native Arts
Serene Saulteaux Cree-ations
Gordon Wesley
Marilyn Holloway
Bull Bear Creations
Feather Craft
Deanna Starlight
Rezinbabe
Hayley Meguinis
The Trends Beauty
Rhonda Elser
William Big Plume